DSP-Specialist - Positive Behavioral Support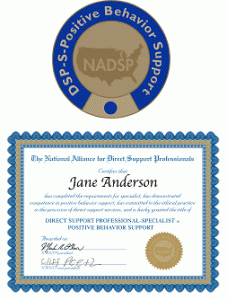 The DSP-Specialist in Positive Behavior Support credential (DSP-S-PBS) recognizes competence in ways to support people who have challenging behaviors.These specialists are skillful in strategies that are safe, fair, compassionate, person-centered and effective in preventing and reducing problem behaviors.
Required elements:
Must be a DSP-Certified II;
Approved continuing education in positive behavior support (40 hours);
Portfolio work sample that demonstrates competence in behavior support;
Proof of one year continuous work with an individual who displays challenging behavior; and
Letter from employer in support of competence and professional integrity in the area of positive behavior support.
Recognized award:
Officially embossed certificate that identifies them personally as a DSP- Specialist in Positive Behavior Support;
Lapel pin that says "Direct Support Professional – Specialist;" and
Personalized letter from NADSP congratulating them on their achievement.
Fee: $100
Re-certification: In order to maintain DSP-Specialist in Positive Behavior Support status the DSP must be re-certified every two years. The re-certification process requires:
Re-certification of the DSP-Certified credential;
Proof of completion of 5 hours of continuing education in positive behavior support;
Re-affirmation of commitment to the NADSP Code of Ethics
Fee: $50