DSP-Specialist Mentoring Supervision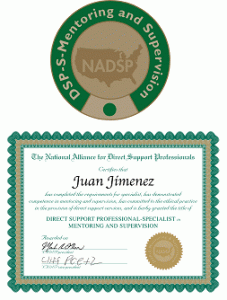 The DSP-Specialist in Mentoring and Supervision credential (DSP-S-MS) recognizes competence in the following areas: staff orientation, competency-based training method, supporting employee development, building successful teams, employee appreciation and motivation, organizational involvement, employee recruitment and marketing, realistic job previews, selection and hiring and how to assess and address workforce challenges.
Required elements: 
Must have been awarded the DSP- II credential;
Training/education of 40 hours in Inclusionmust be approved by an employer representative (such as a supervisor, trainer, HR administrator), completed during the 2 years prior to the DSP-III-Specialist application, and none of the required 40 hours can duplicate the training/education hours used for the 200 hours required for the combined DSP I and DSP II credentials.
Three Portfolio work samples – each demonstrating competence in 3 different and essential components of mentoring and supervision;
Letter from the employer that: a. verifies the applicant has one year of continuous employment demonstrating mentoring and supervision knowledge, skills and attitudes in his or her work, and b. supports the applicant's competence and professional integrity in the area of mentoring and supervision.
Recognized award: 
Officially embossed certificate that identifies the DSP as a Specialist in Mentoring and Supervision;
Lapel pin that says "Direct Support Professional – Specialist," and
Personalized letter from NADSP congratulating the DSP on his/her achievement.
Fee:  $100
Re-Certification:
Proof of re-certification of the DSP-Certified credential;
Proof of completion of 5 hours of continuing education/training in mentoring and supervision that is approved by the employer and completed during the 2 years between certifications;
Signed and dated re-commitment to the NADSP Code of Ethics
Fee: $50